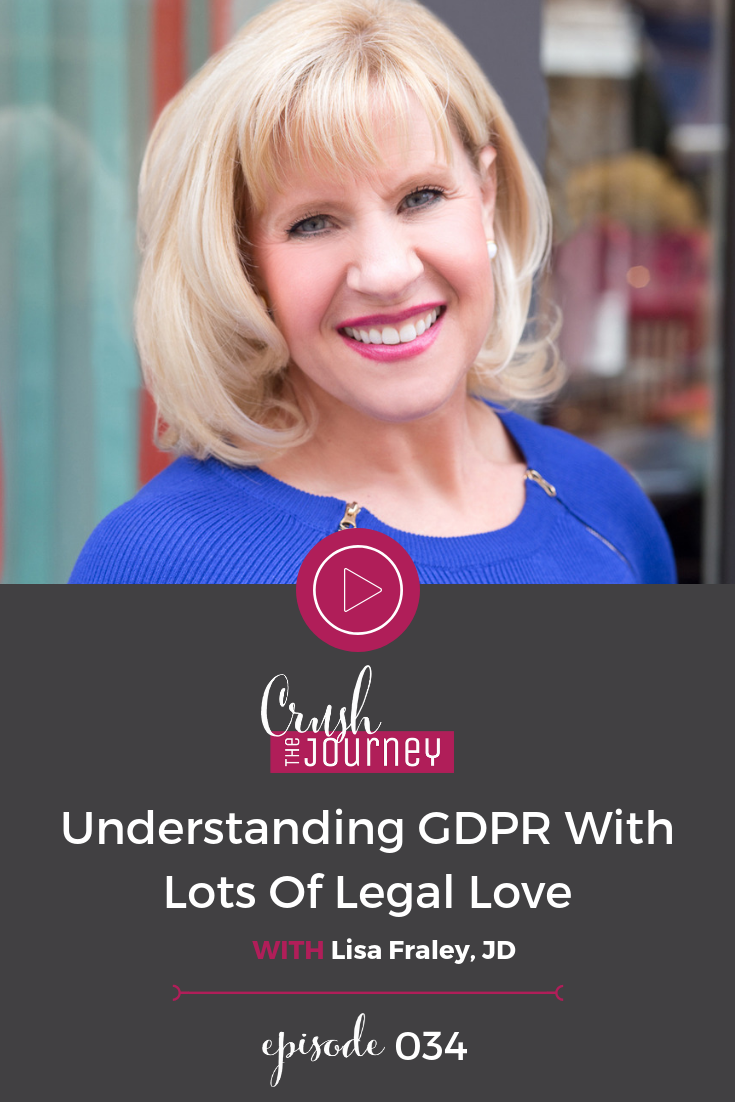 Episode 034 Understanding GDPR With Lots Of Legal Love with Lisa Fraley, JD
Guest Bio
Lisa Fraley, JD, is an Attorney, Legal Coach®, Speaker and #1 Best-Selling Author of Easy Legal Steps…That are Also Good for Your Soul. She's also the host of the "Legally Enlightened" podcast on iTunes. She's a frequent legal expert on over 250 webinars and podcasts including top-ranked "Entrepreneur on Fire", and she's spoken at live events for Jonathan Fields, Mike Koenigs, Carolin Soldo, Health Coach Institute, The Health Coach Group, and others, taking stage alongside Gabrielle Bernstein, Kris Carr, and many of today's thought leaders.
Lisa's mission is to help small business owners understand that the law can be accessible, empowering, loving, and even spiritual. As a Holistic Lawyer®, Lisa blends her legal expertise and caring health & life coaching skills to help thousands of heart-centered entrepreneurs to protect their businesses and brands with contracts, disclaimers, trademarks and more. She shares her "Legal Love" through DIY legal templates, online courses and 1:1 services and is known for aligning legal steps with the chakras. Join the Legal Love tribe and receive free legal tips at lisafraley.com.

Episode Summery
I am so excited to have back on my show online legal expert, Lisa Fraley.  Lisa specializes in providing legal documents for the online entrepreneur with clarity and lots of legal love.  Thinking about the legal parts of our business isn't always the fun but it is necessary if you want to ensure that you are protected and remain compliant.  And today Lisa is here to talk to us all about a newer law that came into effect this past May called GDPR which stands for General Data Protection Regulation and the steps we need to ensure we are in compliance.
Items mentioned in this episode:
This episode is sponsored by my FREE Cash Flow Clarity Bundle