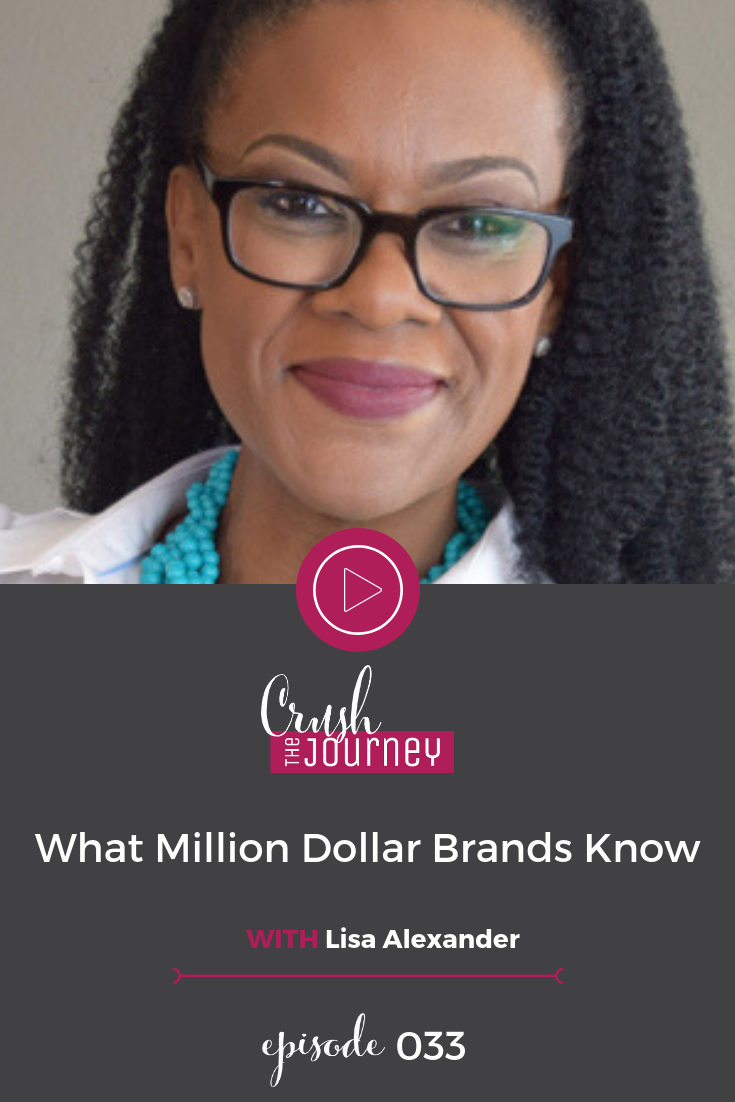 Episode 033 What Million Dollar Brands Know
Guest Bio
Known as The Marketing Stylist™, Lisa N. Alexander has worked as an art director, graphic designer and marketing consultant throughout her 20 year career. As a consultant, and now Creative Director of PrettyWork Creative LLC, she helps small business owners grow their businesses through strategic marketing and branding.
Lisa describes this process as helping clients develop their WOW factor for their big marketing red carpet events. Web launches, advertising campaigns, social media marketing, new business launches are all big events that require the expertise of a stylist to help businesses put their best face forward and her clients love her for this.
Lisa is also a talented speaker and according to the motivational business speaker, Karen McCullough, Lisa is one speaker she would go out of her way to hear speak. She infuses her ability to make the crowd laugh with her marketing know-how and personal growth lessons. She leaves her audiences, inspired, informed and empowered! Lisa has even shared a story at The Moth Story Slam in Houston.
Lisa is also the author of This Woman Knows, her personal story of coming into her own place of knowing and power. She shares this message with women through public speaking opportunities and encourages them to become women who know. She is also the author of, Put It Out There! 5 Steps to Kick Fear's Butt and Move Your Dream Forward and will release her first marketing book, What Million-Dollar Brands Know: Branding Strategies for Entrepreneurs in 2018.
Taking the storytelling process to a new level, Lisa and her husband Elgin Alexander produced their first documentary entitled, What Mercy Looks Like for the This Woman Knows franchise. It is a story about the volunteers who helped rebuild Houston after Hurricane Harvey and the organization who spearheaded the mission. The documentary won a Gold Remi at the 2018 WorldFest Houston International Independent Film Festival.
Lisa has appeared in the American Express Open Forum Blog, The Weather Channel and PRINT Magazine. Lisa has also presented to international audiences. She has been featured in two UK Magazines, Vital Woman and Women Empowering Women. Lisa's work was also published in an Australian publication, This Woman Can. Lisa recently shared her "What If I Look Stupid?" presentation with a group of international personal and virtual assistants. A conversation on how women can ask for what they want and the communication and negotiation tools to do so.
One of Lisa's greatest achievements was going back to school and graduating with honors from Ashford University with a B.A. in PR and Marketing.
She's also very proud of her volunteer work. Lisa has volunteered at Freedom Place — a safe house for young girls rescued from sex trafficking and was the former Chief Communication Officer for The Freedom Coalition. Lisa was also the board secretary for Get Together Northwest Houston and has served on the NAWBO Houston board as Director of Public Relations and is the current Chapter President.
Lisa married her high school sweetheart, Elgin, and the two have been happily married for over 30 years and have two adult children and a rambunctious Labrador-mix named Kobe.
Episode Summery
What are successful entrepreneurs doing in their marketing and branding that have allowed them to scale to become million dollar brands?  Todays guest, Lisa Alexander, shares her insights from the amazing women she interviewed for her latest book, "What Million Dollar Brands Know: Marketing and Brand Strategies For Today's Entrepreneur".  Lisa shares with us how success strategies by connecting with your audience, identifying your target audience, refining your product or service, empowering your employees in being your brand advocate and how these women overcame insurmountable obstacles.
Items mentioned in this episode:
This episode is sponsored by my FREE Cash Flow Clarity Bundle