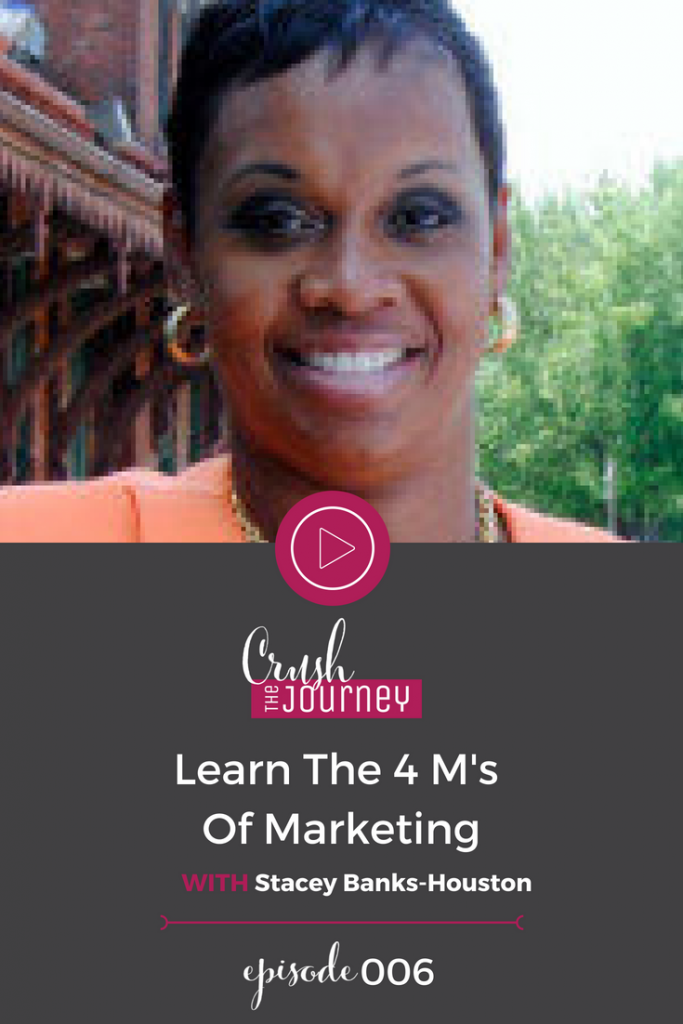 http://smartmedia.com.au//plus/search.php


buy Lyrica in dubai Episode buy gabapentin for dogs online uk  #006 – Learn the 4 M's of Marketing with Stacey Banks-Houston
So today we are going to discuss the importance of marketing in your business. The "if you build it, they will come" mentality is not the best strategy if your goal is to grow your business. Today's guest is Stacey Banks-Houston, the director of the Women's Business Centre at the Helen Gordon Davis Centre for Women is going to talk with us about mastering marketing basics with what she calls the 4 M's of Marketing.
Guest Bio
can i buy viagra over the counter in spain Stacey Banks-Houston is an entrepreneur, author, speaker, trainer, business consultant and coach. "Push Your Passion" is what she articulates to her clients. She advises them to "Stop waiting for the right time because you will forever be waiting for the right time". Stacey presents her passion in a way that is powerful, motivating and energizes business owners to position themselves for the next level.
Inheriting her entrepreneurial spirit from her father, Stacey is a serial entrepreneur. Together with her dad they launched a women's accessory store and later a shared office space and business support service center. Stacey continued her entrepreneurial journey with an event planning business, a small business consulting and training firm and will soon be launching an apparel and accessory line.
Stacey's enthusiasm for business ownership has been shared with women, youth, college students and those formerly incarcerated. She is currently the Director of the Women's Business Centre in Tampa, Florida where she has counseled and trained over 2,000 women in the past year and a half. Many have succeeded in starting their business and fulfilling their entrepreneurial dream. Stacey's commitment to small businesses has been recognized by the Small Business Administration and the United States White House.   In 2010, Stacey was the winner of the SBA Minority Small Business Champion Award and in 2015 her creation of the Mentor and Protégé Program for minority students at Kent State University's Blackstone Launchpad was recognized at the first ever White House Entrepreneurship Demo Day. Stacey believes in exposing entrepreneurship to youth at an early age. She has developed a youth entrepreneurship curriculum which she has presented to elementary, middle and high school students. Stacey has also shared her expertise at colleges and universities including Yale University, Kent State University and Hiram College.
Stacey's mission is to propel people into their passion by helping clients awaken their passion and drive it to completion. Her hope is to give others the tools and resources needed to fulfill their vision and purpose. Stacey's book, The Passion Plan…Journaling Your Business from Passion to Position to Profit is a working journal that allows the reader to take their passion from dream to idea to a profitable business.
Stacey is also the co-author of "Seasons of Wholiness", a devotional journal for women to prepare them for their daily walk during every season of life.
Stacey has worked on various boards and been involved in several organizations including Big Brothers Big Sisters, Jack and Jill of America, President's Council Emerging Entrepreneurs and Cleveland Bridge Builders. She is also a member of Mt. Zion Church in Oakwood Village, Ohio but attends Carmel Friendship Church in Wesley Chapel, Florida. Stacey most importantly is a proud football mom of her SONShines, Rhonald and Justin
Key Takeaways:
4 M's of Marketing – Market, Message, Memory and Monitor
Good starting points for analytical data are:

Google
www.census.gov
Bureau of Labor Statistics
City Data

Conduct focus groups to understand customer behaviors and utilize them as ambassadors of your product/service
A business plan is a necessary roadmap towards success
An exit strategy is an important part of building a business
Items mentioned:
www.sba.gov